A nominee must have taught for three years or more in the District prior to this year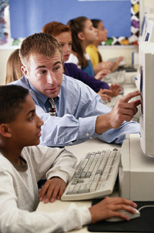 and must not have won this award before. This year we are accepting only one nominee from each school. Schools that are operating as K-8 schools may submit a nomination for a teacher at the K-5 level and another nomination for a teacher at the 6-8 levels. The nominations are judged and scored by a committee of college professors. Final selections are based on the results of the committee's scores. The Denver Teachers' Awards Board of Directors does not participate in the judging. We do, however, try to ensure that elementary, middle school and high school teachers are all represented in the final selection. The quality of the content of the nomination is the basis for scoring.

The Denver Teachers' Awards program of recognizing outstanding teachers and volunteers offers a way to honor tremendous contributions to excellence in education. This program is a way to show support and admiration for our public school teachers.
For additional information, Sharon Tave at 303-399-3975 or Dorolyn Griebenaw at 303-477-4125 or 303-234-0569.
Forms are due Wednesday, February 16, 2022.