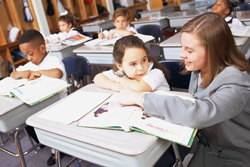 DTA Recognizes Distinguished Teachers:
Each fall, Denver Teachers' Awards sends out a call for teacher nominations to every Denver public school. Teachers may be nominated by their principal, other teachers, staff members, parents or members of the community, An independent committee for professional educators reviews all the nomination forms and selects the recipients. The award recipients are recognized at the annual Excellence in Education Banquet held each May. To date, the Denver Teachers' Awards has recognized 482 distinguished teachers and distributed cash awards of $329,750 to the recipients.
DTA Recognizes Volunteers:
More recently, Denver Teachers' Awards has been recognizing outstanding volunteers with the Helen Phelps Award. Names after a dedicated Denver high school teacher who began her career in the early 1900s. This award recognizes both an individual and a company for exemplary volunteerism in a Denver public school.Volunteers can be nominated by parents, teachers, school administrators or friends. To date, the Denver Teachers' Awards has recognized 32 individual volunteers and 27 business volunteers.